Dental Fillings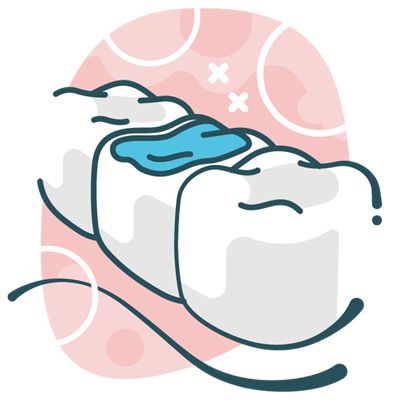 Fillings are the first line of defence when it comes to treating tooth decay. Unlike older amalgam (metal) fillings of years past, we use tooth-coloured composite materials. These aesthetic restorations allow you to repair damaged teeth and smile with confidence at the same time.
Specialised Filling Procedure
Our practice is a little different when it comes to completing "routine" dental fillings. We use something called a rubber dam to isolate teeth throughout the procedure. The dam goes over the tooth and collects decay particles (as well as water) to prevent it from collecting near the back of your mouth. The debris is easily suctioned away, keeping you comfortable and safe.
Our patients frequently tell us just how comfortable the process is! In fact, they often fall asleep during the visit.
To ensure your comfort, we offer several types of sleep dentistry to help you relax. Choose from options like happy gas (nitrous oxide), oral sedation or even something stronger. During the procedure you can also listen to music or watch a movie, using our noise-cancelling headphones to tune out the other sounds in the room. We also have soft blankets available to help you feel comfortable. Even the temperature of the room is closely monitored!
After you're relaxed, we'll use numbing medication (local anaesthetic) to ensure that you cannot feel anything. That way we can efficiently remove the decay without any irritation to the tooth.
Each of our dental fillings is matched to the natural colour of the tooth, allowing it to blend in with your smile. The composite is shaped by hand, fusing to the enamel for a tight seal that protects your tooth. White fillings are mercury free and less invasive to tooth structures.
Take care to avoid eating anything too hard for the rest of the day, at least on that side of your mouth. It can take a few hours for the numbness to wear off, so it's important to take steps to reduce the chance of accidentally biting your lips, cheek or tongue.
We screen every patient for tooth decay during their routine checkup. Booking a scale and clean every six months makes it easier to intercept cavities as soon as they start to develop. In fact, it might even be possible to reverse early demineralisation with a fluoride treatment.
Do you have a cavity? Some of the common warning signs to look out for include

Tooth sensitivity
Food catching between teeth
Pain when eating certain foods
Rough or sharp edges in teeth
Discoloration or dark patches

Take note; not all cavities are painful. Routine exams can help us intercept tooth decay in its earliest stages. That way treatment is more conservative (to both your tooth and your wallet). Left untreated, decay can easily spread deeper into the tooth nerve or adjacent teeth, leading to additional treatment needs such as root canals or crowns.

Not all cavities are visible. We may need to use a small digital X-ray to assess how deep the decay has worked its way into your tooth structure. Fortunately, our high-resolution imaging systems make it simpler to intercept cavities when they're in the earliest stages.
Think You Have a Cavity?
Early intervention protects your smile's health. For white dental fillings Moonee Ponds, contact our family dentist.
CONTACT US »

Dental Fillings Moonee Ponds VIC | (03) 9078 6259