Dental Implants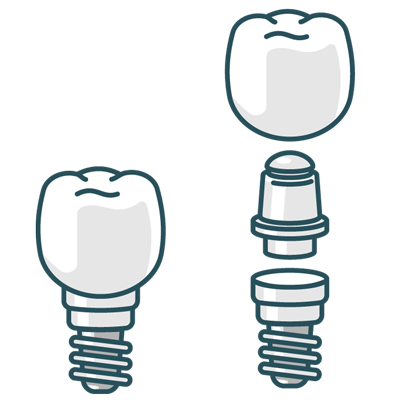 Do you have missing teeth? Our practice offers complete dental implant therapy, whether you need to replace a single tooth or all of them at once.
Dental implants are a predictable and durable solution for long-term tooth replacement needs. The implant itself resembles the "root" of a tooth and can be topped off with a fixed restoration (such as a crown) to replace the visible portion that you see when you smile.
Who is a Candidate?
Implants are not for everyone, as they require healthy bone structure for support. Careful examination and radiographs are essential for our dentists to find out if you're a candidate for dental implants, if you have missing or badly decayed teeth that re non-restorable. If kept clean and healthy, implants have the potential to last for the rest of your life.
Being that implants are the root portion of your new teeth; we can use them individually or in pairs to anchor multi-tooth restorations. Some of the most common types of implant treatments that our patients request includes
Single Tooth Implants – This traditional implant solution features an individual dental implant with a single porcelain crown. It mimics the shape and function of a natural tooth, blending in with your surrounding smile. Since it's non-invasive to adjacent teeth, single implants are preferred over conventional bridges and partials.
Multi-Tooth Implant Bridges – The integrity of implants allows them to support the weight of multiple teeth. When used in pairs, implants can be topped off with a 3-4-unit (tooth) bridge, filling in wider gaps in your smile.
For single and multi-tooth implants, a period of healing is needed before the new implant can be topped off with a crown or bridge. During this 3-4-month span, the bone integrates with your implant to fuse it permanently into place. In the meantime, we can fit you with a temporary prosthesis for aesthetic purposes.
Full-Arch Implants – When you need to replace all your upper or lower teeth at once, a full-arch implant bridge is a wonderful solution. This service is like popular "All-on-4″ or "All-on-6″ implant systems that most people are familiar with. In the case of a full-arch treatment, we use 4-6 implants placed in the jaw at strategic points to support a longer dental bridge. There is no removable denture or bulky plate in the roof of your mouth. A full-arch system strengthens your smile and most people can have their new, permanent teeth within 48 hours.
The difference in dental implants and conventional tooth replacements is that implants

Are non-removable
Can last for decades
Are non-invasive to adjacent teeth
Strengthen your natural smile
Can be used for any number of teeth
Promote healthy bone and facial profiles
Mimic natural tooth designs
Find Out if You're a Candidate
The typical dental implant procedure can be completed with local anaesthetic, as it's relatively minimally invasive. However, we also offer a variety of sleep dentistry options to help you relax. During your implant consultation, we'll discuss which options are most appropriate and create a plan that's personalised to your unique situation.
Book your dental implants Moonee Ponds exam today!
CONTACT US »

Dental Implants Moonee Ponds VIC | (03) 9078 6259