Checkup and Clean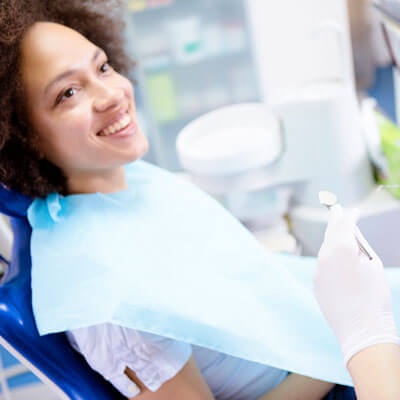 To keep your smile healthy, we recommend scheduling a preventative checkup and clean at least twice per year. Thanks to regular visits with our oral health therapist or hygienist, you can lower the chances of tooth decay and periodontal disease as well as a host of other dental concerns.
A Comprehensive Exam
Having an extensive baseline reading of your tooth and gum health makes it easier to intercept issues in the future. During your comprehensive examination, our dentist will evaluate everything about your smile, including assessments of
Gum and bone levels
Oral cancer screening
Wisdom teeth
Jaw pain
Tooth decay
Orthodontic needs
Restorations such as implants, fillings, etc.
Cosmetic concerns
By carefully documenting all findings, we can monitor changes in your health from one visit to the next. That way concerns are intercepted early when they're smaller and more affordable to correct.
Should you require any therapeutic or restorative treatment, we will review all options with you so that you know what choices are available. From there, we'll formulate a customised treatment plan, which includes the type of procedures, number of appointments and estimated costs involved. Most treatments are scheduled for a later date rather than initiated on the day of your exam (unless it's an emergency).
Following the exam with our dentist, our oral health therapist or hygienist will then complete the appointment with a professional scale and clean. For subsequent checkups, you can plan to see the therapist or hygienist prior to your periodic dental exam.
As part of your clean, we'll gently remove soft and calcified buildup across your teeth, then polish away surface stain. If there are any problem areas that require special attention, we'll share strategies to help keep them clean between checkups.
Finally, we'll apply fluoride across your teeth to help strengthen enamel, combat tooth decay and manage symptoms of sensitivity.
Not everyone enjoys going to the dentist. We want your experience to be one that's relaxing and simple. By listening to your specific concerns and understanding your comfort level, we can better accommodate your unique situation. If appropriate, we offer a tier of sleep dentistry and sedation options to consider, ranging from happy gas to deeper anaesthesia.
Periodontal disease is a condition that disrupts the attached tissue around your teeth. When bone structures and gingiva (gums) are compromised, it leads to recession and tooth exposure or mobility. Left untreated, periodontitis can also cause bone and tooth loss.
Screening for gum disease is an essential step in preventing loose teeth. By pinpointing gum pockets early, we can assist you in modifying your oral hygiene routine to prevent future complications. Or in instances where the disease is caught much later, we can plan for a series of periodontal therapy appointments to halt the spread of the infection. Be sure to let us know if you're experiencing symptoms of sore teeth, bad breath or bleeding gums.
New Patient Special
We're currently offering a comprehensive new patient checkup at just $270. This special includes a full examination, clean, fluoride and any appropriate imaging. You can plan on this first visit taking about an hour to complete.
Schedule your checkup and clean Moonee Ponds today with our dentist, hygienist or oral health therapist.
CONTACT US »

Checkup and Clean Moonee Ponds VIC | (03) 9078 6259