Smile Gallery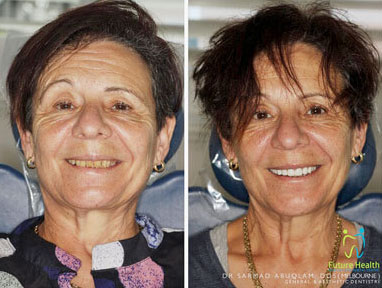 Veneers
This lovely lady had always wanted to change the look of her teeth to suit her personality. She's waited a long time to take this decision due to having dental phobia. Our principal dentist Dr Sarmad Abuqlam and his staff have treated the case with utter importance to achieve the results she wanted. She felt very comfortable during the procedure and advised anyone thinking about doing so to visit the practice and experience it for themselves. We are here for you for whatever you decide on. You are the author of your own story. We offer all the options and support you in whatever option you choose. This case of veneers took 2 weeks to complete.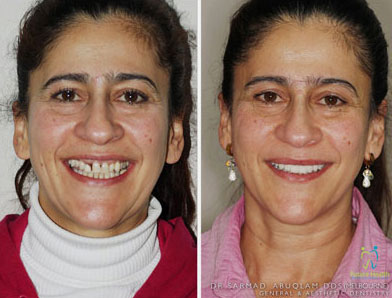 Dental Implants
This lovely guest had a big aesthetic concern that has been addressed with Ceramic layered Implant Bridges. The treatment took 6 months to complete and the guest had a temporary bridge while the implants healed. The loose teeth were removed and implants placed. Hand crafted crowns and bridges were placed to suit her individual look and personality. We offer many aesthetic replacement options and each will be tailored to your individual case. Our aim is to get you as ecstatic about your smile as you can ever be!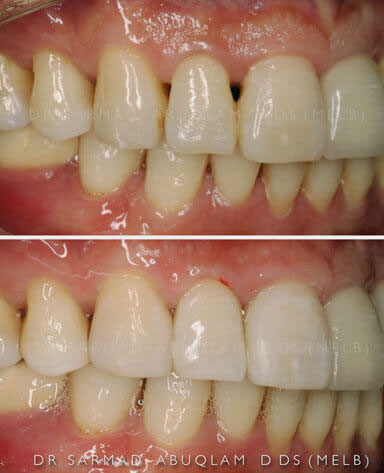 BioClear
Occasionally, unwelcome dark spaces appear between our teeth. Doesn't exactly add that rugged feel that goes with the silver fox look, these dark spaces may also collect food debris and plaque. Usually the result of bone loss, recession of the gum line, or movement of the teeth. Once the gum and bone recession is stable, it can be corrected with bonding of injecting moulding resin. This is a case of an gentleman who actually was getting a phonetic problem because of those triangles. The upper teeth were all made in one appointment of 90mins. We couldn't be happier with the result!
Orthodontics
It's never too late to have Straight Teeth! We offer a wide range of treatment including braces for kids and adults. This case was completed in less than 6 months using our Ceramic Braces, the adults' favourite. We also offer Clear Aligners treatment which is virtually invisible. Clear aligners are the invisible way to straighten teeth without braces. Speak to your dentist at your next Check Up about it.
Earl Intervention Orthodontics
Phase 1 orthodontic treatment, or interceptive orthodontics, typically occurs between 6 and 9 years of age, during the mixed dentition phase, when patients begin to lose their baby teeth. This is the best time to detect whether there are disturbances in jaw growth or tooth development that are more easily addressed at this age. This Child had a very narrow jaw which causes crowding and crossbites. It was corrected using a palatal expander which restored the natural shape and size of the jaw to accomodate for his adult teeth to erupt. The child was aged 8 and the treatment took 7 months.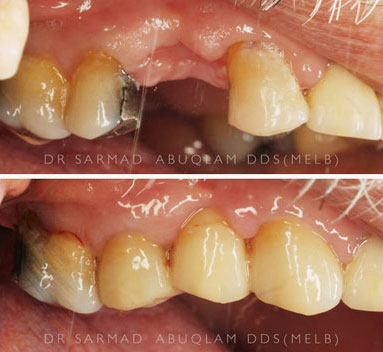 Bridges
Missing teeth can be replaced with either Implants or Bridges. Here's a close up photo of a bridge made for this gentleman. The teeth will look and feel just as your natural teeth. It's recommended to get replacements soon after you loose a tooth, otherwise the teeth either side of the space will start sinking into the space and causing more issues. A dental bridge may be your best option if the neighbouring teeth have large fillings and need crowns or caps in the future.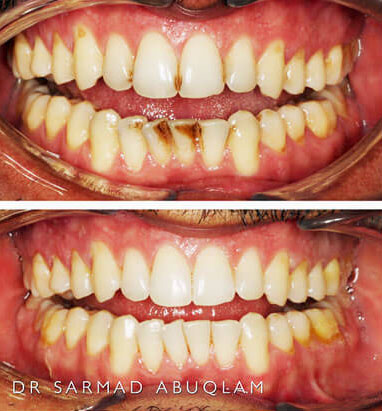 Scale and Clean
Most clients' hygiene needs can be met by a full scale and polish. Deep-cleaning is also available, and can be done under local anaesthetic. It is sometimes needed if teeth and gums are left untreated, plaque can harden to form tartar which can spread below the gum line.
This is a case from our practice showing removal of tartar and stain. The staining were causing our client an aesthetic concern. The teeth were scaled, cleaned and polished. Our dentists operate using a set of thorough tools and methods to ensure the healthiest of cleans.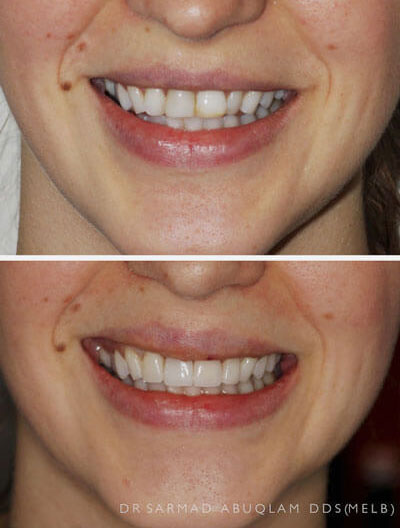 Veneers
How natural can veneers look? The aim of such treatment is to restore the natural look and feel of teeth after years of wear and tear. They can also make slight subtle changes in the smile that go along way. This lovely lady had 4 veneers to replace old resin veneers from an accident and to straight and bring forward the "hidden" teeth on the sides.
Smile Makeovers
Smile! The only constant in happiness… Complete smile makeover can have a great impact on overall life! We enjoy being a part of your journey. We will be with you every step of the way.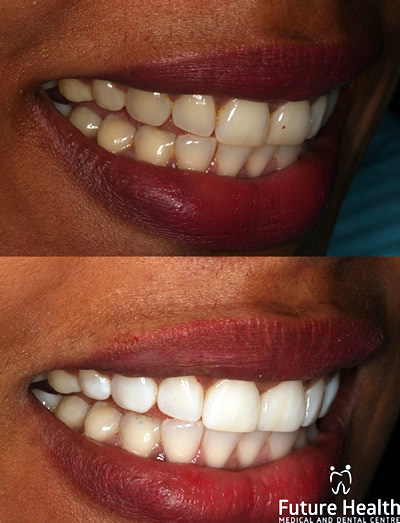 Teeth Whitening
Everyone wants whiter teeth, there are so many options for it out there that it makes your head hurt. The verdict is to have them done safely and efficiently with your dentist. Ask us about whitening offers at your next check up as we run different ones throughout the year. This lovely client had hers done with us. Total treatment time 60mins.
Call Now!
Contact our team today to book in for your first appointment!
CONTACT US »

Future Health Medical and Dental Centre Smile Gallery | (03) 9078 6259