Veneers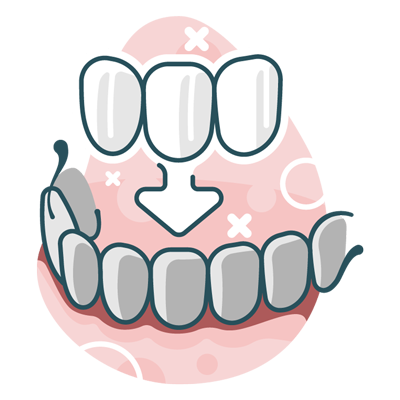 Looking for a dramatic way to enhance your smile? Cosmetic dental veneers are similar to crowns, except that they only cover a portion of your tooth instead of the entire surface. Rather than completely creating a new layer to go over the whole tooth, the veneer only masks the front of each one. As a result, it immediately changes the way the tooth looks when you're smiling or talking.
Advantages of Veneers
Cosmetic veneers can be used to address a number of aesthetic concerns, such as
Crooked teeth
Gaps in your smile
Misshaped enamel
Chipped or uneven teeth
Severe stain/discoloration
Instead of wearing braces or whitening, veneers are placed across the visible teeth at the front of your mouth. When paired together, they create a straighter, brighter, more uniform-looking teeth.
Although veneers do offer a significant amount of protection to the front of your teeth, they aren't used to repair significant areas of decay or structural damage. In those scenarios, a full porcelain crown is more appropriate.

There are a variety of materials that veneers can be crafted from. The most common is porcelain. These veneers are hand designed in a lab and take about two weeks to create. Another alternative is composite, which is similar to the white material used for fillings. Composite veneers are shaped chairside in one appointment and are best for limited cases with fewer teeth.
Do I Qualify for Veneers?
Veneers are best for teeth that are free of decay and gum disease. If other options are available – such as
whitening
or
Invisalign®
– we can discuss what choices you have to consider. Cosmetic veneers aren't right for everyone. That's why each smile makeover starts out with a consultation with our dentist. As we talk through your goals and concerns, we can help you find the best answer for your smile's needs.
Most of our dental veneers are traditional porcelain designs. These treatments are typically staged across two separate appointments, following your consultation. During the first, we'll gently prep your teeth so that a veneer will fit over them, take a series of moulds, then send those impressions to our lab. In the meantime, we'll place temporary veneers to minimise any sensitivity.
Approximately two weeks later, you'll return to our practice to have the temporary veneers removed and the permanent ones bonded in place. When affixed to each respective tooth, your smile will instantly be transformed!
For the occasional situation where same-day veneers are used, the procedure is similar to a filling appointment. The individual tooth is numbed, prepped and the composite is shaped by hand. Chairside veneers are ideal for specific areas of concern, as opposed to full-mouth smile makeovers.
Although veneers are strong, they're not indestructible. It's crucial to clean around each veneer daily, brushing and flossing them as if they were natural teeth. By scheduling regular checks and cleans, our dentists, oral therapist and hygienist can monitor your veneers and make you aware of any concerns.
If you're someone who is prone to clenching and grinding your teeth, wearing a night guard is advised. A bite splint will help reduce the risk of accidental damage to your veneers or other dental work.
Start Your Smile Makeover
Learn more about what dental veneers Moonee Ponds can do for you! Request a consultation today.
CONTACT US »

Veneers Moonee Ponds VIC | (03) 9078 6259