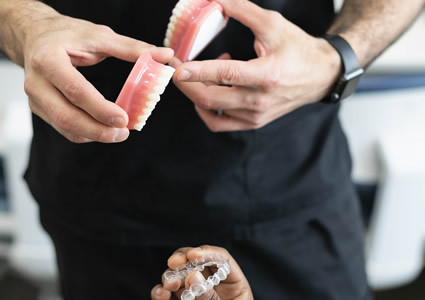 Gum Grafting and Gum Lifts
There's more to your smile than just healthy teeth. Your gums are the foundation that help hold things in place. But sometimes gum levels aren't what they ought to be, which can make teeth look too short or long.
By adjusting the gumlines throughout your smile, we can create appropriately sized teeth and reduce concerns related to sensitivity or aesthetics.
Gingivectomies or "gum lifts" are a procedure that reduces excess gingiva (gum tissues) around individual teeth. By contouring the gumline and removing overgrown gums, teeth appear larger and fuller, revealing their natural size and shape.
We complete all gum lifts with a state-of-the-art soft tissue laser. The laser allows for an extremely accurate procedure and quicker recovery times. After the gums are thoroughly numbed with local anaesthetic – so that you never feel a thing – the laser is traced along the edge of the tissues to meticulously reshape them into the desired frame. Our patients can enjoy rapid healing compared to non-laser gingivectomies. If you prefer something a bit stronger than conventional numbing medication, we also offer a variety of sleep dentistry options to help you relax.
Gingival contouring is a great solution for people who have "gummy" smiles. By predictably adjusting the shape of your gum tissues with our dental laser, you can enjoy a fuller smile in just one appointment. Often times, gum lifts are combined with other cosmetic procedures, such as whitening or dental veneers.
In the instance of managing gum disease, adjusting your gumlines can also serve to reduce the extent of gum pocketing, making it easier for you to improve your dental health between checkups.
Sometimes gum tissues creep down the teeth to expose the tooth roots. In these situations, an opposite type of therapy is recommended. Rather than contouring the tissue that remains, adding a graft allows us to bring the gumline back up to a healthier level.
Gum recession usually occurs as the result of gum disease or aggressive toothbrushing (abrasion). By re-covering the root surface with a graft, it restores the protective cover your tooth requires. Grafts can be made from synthetic materials or taken from another area of your mouth (usually your palate) and then moved to the specific tooth.
Gum recession can increase the chances of tooth decay, sensitivity and tooth mobility. Placing a graft in the area isn't just for aesthetic purposes; it also helps to protect the integrity of your smile's health.
Unlike gum contouring, grafting requires approximately two weeks for healing. There are specific instructions and maintenance protocols that you will need to follow to ensure the success of the procedure. By scheduling a regular checkup every six months, we can help to ensure that your treatment is effective.
What's Best for My Smile?
Our dentist will meet with you for a consultation to discuss which therapy is most suitable for your needs. Since your comfort is important to us, you'll also be able to choose from a variety of sleep dentistry options that are available.
If you're exhibiting signs of exposed tooth roots or a "gummy" smile, we encourage you to request a brief visit to discuss your unique situation.
Contact us today to learn more about gum grafting and gum lifts Moonee Ponds.
CONTACT US »

Gum Grafting and Gum Lifts Moonee Ponds VIC | (03) 9078 6259