Early Intervention Orthodontics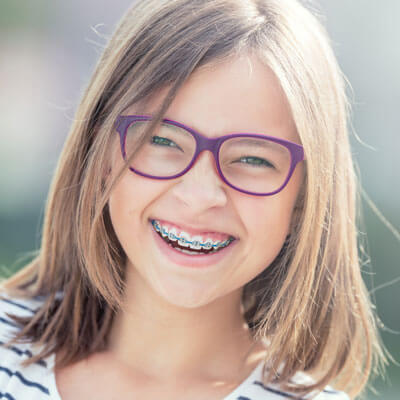 A traditional braces treatment usually starts around the time your teenager is 13 or 14 years old. But at that point, their jaw growth is already set. There isn't much leeway or space to make significant movement when it comes to their orofacial anatomy. Interceptive orthodontics changes that.
With early interceptive orthodontics or "early intervention", we're able to detect problems earlier on. That is, while your child's oral anatomy is still developing. That way if an issue such as thumb sucking or a tongue thrust is restricting jaw growth, we can intervene while their bones are still forming.
Unlike traditional braces, early intervention occurs at a younger age. In most cases, it's best that your child is around 7 years old. At that point, we can use simple appliances such as a palatal expander to create adequate width in their jaw, for adult teeth to have room for proper eruption.
Reduce crowding and space concerns
Lower the chance of future extensive orthodontics
Encourage healthy orofacial development
Take advantage of your child's normal growth patterns
Lessen the amount of time spent in braces later
Promote more desirable tooth eruption positions
Depending on your child's individual bite anatomy, the appliance or expander can be used independently or combined with a set of braces. We'll discuss our findings and recommendations beforehand, so that you can be informed about what options are available.
When Should My Child See a Dentist?
Age 7 is usually the best time to discuss interceptive orthodontics with your dentist or orthodontist. With traditional braces, treatments come much later, after all the baby teeth have fallen out and adult teeth have come through. But at age 7, we have a mixed dentition (a combination of both baby and adult teeth). An evaluation at this age allows for a prime opportunity to intercept any development issues that could potentially turn into larger concerns.
Leading up to a specific orthodontic consultation, our family dentist will assess your child's bite at each routine checkup. So even though the formal evaluation may not take place until your child turns 7, we'll have a general idea of any concerns well before that point.
Since our family dental practice provides in-house early intervention braces and expanders, there's no need to visit a separate provider. Everything is completed under one roof!
Younger children tend to need a bit of help when it comes to cleaning around their braces. As parents and caregivers, you may need to assist them with brushing or flossing their orthodontic appliances. With a bit of practice and regular checkups, your child's smile can be even healthier after their orthodontic treatment than it was before!
Keeping regularly scheduled appointments and following home care instructions (such as adjusting the expander) are crucial. Dedication to the care plan instructions will promote timely treatment so that appliances can be removed on time.

Additional Orthodontic Treatments
Our practice provides a wide variety of orthodontic services for all ages, including braces for teens, as well as Damon systems and Invisalign® for adults. So, if you miss out on interceptive orthodontics as a young child, our provider can still help you find the best braces for your needs and lifestyle.
For information related to children's early interceptive orthodontics Moonee Ponds, contact us today.
CONTACT US »

Early Intervention Orthodontics Moonee Ponds VIC | (03) 9078 6259