Children's Dentistry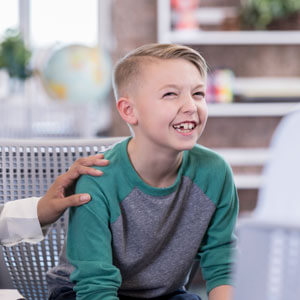 Your child's early dental experiences are ones that shape their perception of dental care in the future. Even before their first appointment, we encourage parents to bring their child in to watch them during a routine checkup. Or, have your child accompany an older sibling, to help model their behaviour.
By establishing a positive outlook on dental care, we can help your child enjoy healthier teeth and a lower chance of dental anxiety.
Checkups for Kids
Our dentists, oral health therapist and hygienist are extremely friendly and enjoy working with children. When your family arrives, we'll greet you at the front desk and have a children's area for your little ones to entertain themselves. After we've processed all your information, we'll walk your family back to the exam area where we'll discuss any questions or concerns. Then we'll thoroughly examine your child's bite and facial development. Assuming they're comfortable, a cleaning is also recommended.
The deep grooves and pits of your child's molars (back teeth) are one of the most at-risk areas for tooth decay. Placing a protective fissure sealant over these surfaces takes only a matter of minutes. The thin layer helps safeguard your child's enamel and makes their teeth easier to clean.
A fluoride treatment after each checkup helps strengthen developing teeth, making them more resistant to tooth decay.
For especially nervous or wiggly children, happy gas (nitrous oxide) is available to help put them at ease. Nitrous sedation is light and effective, creating a relaxed sensation during routine procedures like fillings or extractions, when needed.
Is your child involved in sporting activities? An athletic mouthguard can lower their risk of broken, knocked out teeth, busted lips and even concussions. We can fit your child by simply taking a mould of their teeth. The sports mouthguard is made by a high-quality lab and ready within just a couple of weeks.
Prevention is key when it comes to healthy teeth for life. Our team will share age-appropriate oral hygiene strategies with you and your child, to help them establish healthy dental habits for the years to come. Until your child can tie their own shoes, continue to assist them with brushing and flossing each day. Although independence is encouraged, follow up is too!
Our Holistic Approach
There's more to a healthy smile than just brushing and flossing each day. Our dentists don't just look at your child's teeth and gums. We also evaluate their facial development, jaw growth and tooth patterns to see how they interconnect with one another. We work closely with a local ENT to screen for and diagnose the early warning signs of conditions such as sleep apnoea. For instance, unlike teeth grinding in adults, it isn't very normal for children. If your child grinds their teeth, they may be experiencing a side-effect of a much more serious, underlying medical concern.
Through interceptive orthopaedics, we can avoid potentially severe orthodontic needs later on. A series of jaw expanders or orthopaedic appliances can help promote healthy jaw and facial bone growth, allowing proper tooth eruption (thus limiting concerns like impacted or crowded teeth).
Schedule a Checkup Today
Schedule children's dentistry Moonee Ponds checkups with our family dentist, for complete care under one roof. Contact us today.
CONTACT US »

Children's Dentistry Moonee Ponds VIC | (03) 9078 6259