Sleep Dentistry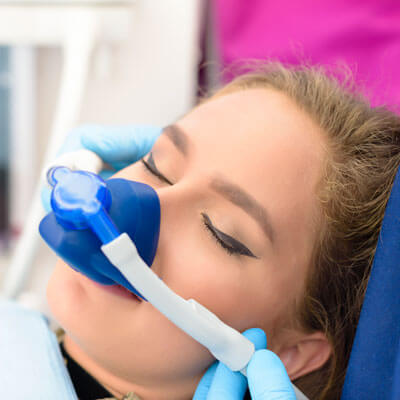 It's not uncommon for people to feel nervous about seeing a dentist. Thanks to sleep dentistry, we can apply relaxation techniques to nearly any dental procedure, whether it's routine or complex surgery. Even something simple like a scale and clean or dental filling can be completed with a gentle sedative or analgesic.
You Guide the Process
Your first consultation is the ideal time to discuss your concerns. If you have any questions, we'll be happy to answer them for you. Anyone can request sleep dentistry; it's not restricted to certain procedures or people. After reviewing your background and medical history, we can give you different options and will support you in whichever one you choose. Chances are, you'll have more than one type of sedation to choose from. It helps to understand the advantages of what each option has to offer!
Feeling Apprehensive About the Dentist?
Sleep dentistry helps you overcome dental phobia, so that you can access care when you need it. By treating problems sooner, your therapy is more conservative and affordable. Otherwise, dental complications can spread to adjacent teeth or become more complex to repair.
Our gentle dental team is attentive to your needs, always working at your individual pace. By incorporating sleep dentistry techniques, we can help you feel comfortable even when you have a history of dental anxiety.
Types of Sedation and Analgesia
Happy Gas (Nitrous Oxide) – This inhalation sedation is a mild analgesic that helps you feel relaxed but still fully aware of what's going on. It works quickly (within a few minutes) and is 100% reversible, so that it's safe to drive home afterward. Happy gas is safe for all ages and effective enough for even the most advanced procedures.
Oral Sedation – For a deeper level of relaxation, oral sedation is a wonderful option. The medication is taken about an hour prior to your procedure, allowing time to start working. Most people feel sleepy and don't remember much about their appointment, thanks to the amnesic qualities of the medication.
IV Sedation – If you're planning more advanced treatment or lengthy procedure, IV sedation may be best. The medication can last for a specific length of time, allowing us to turn it off once your therapy is complete. IV sedation can also be applied to Medicare rebates, allowing for a more affordable experience while getting the treatment you so desperately need.
Both oral and IV sedation do cause lingering drowsiness following the procedure, so it's important to have someone accompany you to the appointment and take you home after.
In some situations, general anaesthesia may be required (such as a complex wisdom tooth removal or full mouth rehabilitation). If so, we will discuss the specific scenario and requirements needed for a more specialised anaesthesia experience.
We're Here to Help
Keeping you comfortable helps eliminate recurring dental anxiety and makes care more accessible. Dental phobia is nothing to feel embarrassed about. We're more than happy to accommodate your needs or answer any questions that you may have.
As part of your sleep dentistry consultation, we'll want to discuss any past experiences or underlying medical conditions. The better we understand your unique situation, the easier it will be to address your unique concerns.
Contact us to learn more about sleep dentistry Moonee Ponds.
CONTACT US »

Sleep Dentistry Moonee Ponds VIC | (03) 9078 6259