Dental Crowns and Bridges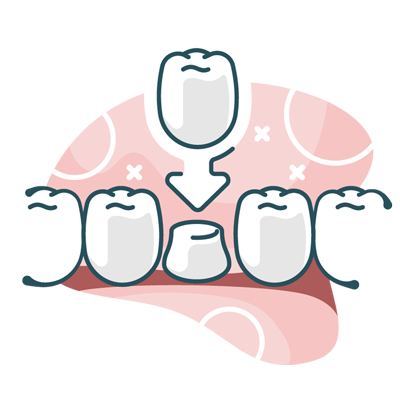 Crowns are protective restorations that cover heavily worn, broken or decayed teeth. Sometimes called "caps", they slip over the tooth to completely wrap around the surface above the gumlines. It's like adding a protective layer over your tooth, instead of filling a smaller area.
You May Need a Crown If…
There is a large, old filling
You recently had a root canal
A tooth is severely worn or fractured
There is a large cavity that can't be filled
We are topping off an individual dental implant
Although some people prefer to get dental fillings for convenience's sake, they are not always designed to last. A large filling may seem like a quick, affordable fix but it's at a greater risk of breaking apart from everyday use. In contrast, a crown provides stronger structural reinforcement for a long-term restorative solution.
FAQ's
We typically use porcelain, zirconia or ceramic crowns, as they are both durable and aesthetic. This characteristic makes them appropriate for front and back teeth alike. However, other materials are also available, such as gold. Depending on which tooth is being restored and your individual preferences, you may have an option when it comes to selecting your crown design material.
Each of our porcelain crowns are carefully matched to the shade of your adjacent teeth. That way you can smile with confidence, knowing your restoration blends in with your smile.
How Long do They Last?

Crowns usually last 10-15 years on average. Since they don't change in colour, adjacent teeth may start to stand out over time as they become discoloured or worn.
Is Treatment Painful?
Not at all. The treatment is similar to having a filling done, although the procedure is a bit longer and can take up to an hour to complete. Your tooth is thoroughly numbed so that you don't have to feel a thing. We also offer a variety of
sedation and sleep dentistry
options to help you relax. Noise-cancelling headphones make it easy to tune out your surroundings as you enjoy your favourite music or a movie.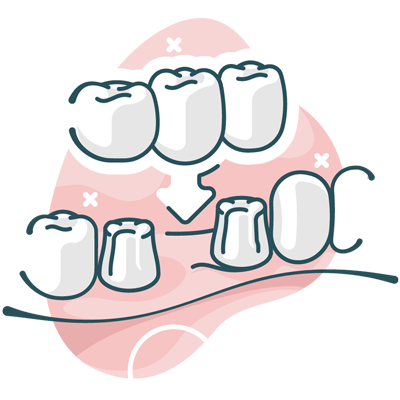 A bridge looks like 3-4 crowns fused side-by-side, but it plays an entirely different purpose than covering a damaged tooth. Rather, bridges are used to fill in the gaps that are left from missing or extracted teeth. We can also place bridges on top of a pair of implants in lieu of wearing a removable partial denture.
Either end of a bridge rests on top of a tooth, just like a crown. But between them is a single "pontic" crown or pair of crowns that are suspended across the open space in your bite.
Care and Maintenance
Since crowns and bridges have a small margin that rests near your gums, it's important to clean around them daily. Brush gently along your gumlines and floss each tooth near the gumlines. For bridges, use a threader to loop the floss underneath. Careful cleaning will help prevent recurring decay from forming around your new restoration.
If you tend to clench and grind your teeth at night, we recommend wearing a protective bite splint to avoid unnecessary wear or chipping in your restoration.

Crowns and Bridges Moonee Ponds VIC | (03) 9078 6259